Gli O-Town tornano sotto i riflettori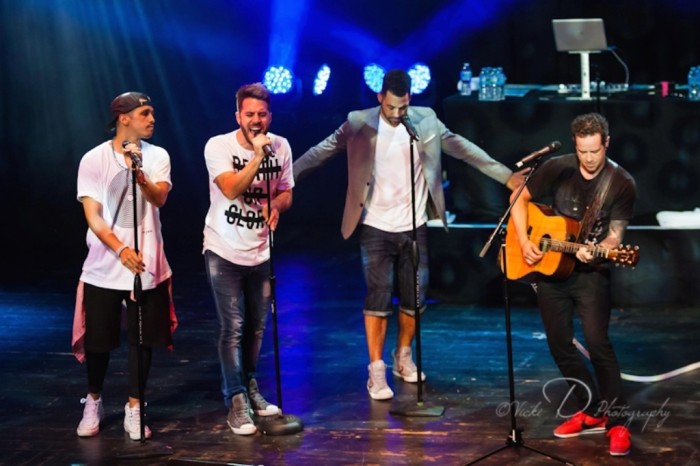 by Gillian DiAddezio
Saturday night was a magical evening for the House of Blues in Orlando, FL, as the venue welcomed back long lost friends. The House of Blues, located in the heart of Walt Disney World, has allowed the opportunity for countless artists to grace its stage, from local bands including The Crazy Carls to world-renowned acts such as Willie Nelson and Fall Out Boy. This weekend was special because it brought back a boy band, aptly named O-Town.
O-Town was founded in 1999, through one of the first-ever reality television shows, ABC's "Making The Band". The members, Jacob Underwood, Erik-Michael Estrada, Dan Miller, Trevor Penick, and Ashley Parker Angel, were the first 'experiment' so to say, in an attempt to show the world what it takes to create a global sensation. After two albums and a failing management, the band split up in 2004, sending each member their own separate way. Now, after over a decade, the guys are back (sans Ashley Parker Angel) to doing what they love and this time, it's purely, authentically them. I had the pleasure to sit down with the guys and chat about the comeback, and what lies ahead for the future of the band.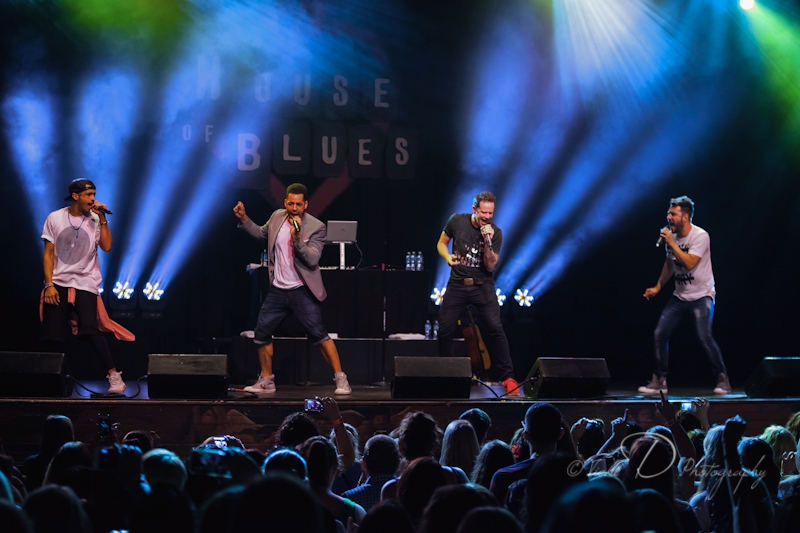 The band's new album, Lines and Circles, was released on August 24, 2014, and it's their best work yet. It was apparent how much love the guys have for what they do, and the appreciation they have for their fans. They know that without their fans none of this would be possible, and the band certainly knows how to treat them when they purchase VIP tickets to their shows (t-shirts, lanyards, signed memorabilia, soundcheck access, a meet and greet, special inclusion in the show with props, and VIP/band "selfie" were all some of the perks included in the package on Saturday night). Their tour manager, Michael, even took the time to check in with me throughout the night and make sure I had everything I needed.
Overall, I was extremely impressed with the show that night, which included local band The Crazy Carls as a fantastic opener to the night. The band's lead singer, Alex, was a joy to watch as he sprinted across the stage with funky dance moves and got the crowd on their feet with his stage presence and upbeat vocals. This left the audience fired up for O-Town, who opened with their hit from long ago, "Liquid Dreams". I have to admit, an excited teen heart emerged from inside me when I saw them hitting the iconic boy band dance moves in precision to their 90's anthem.
It was obvious throughout the entire show how much Erik, Dan, Jacob, and Trevor absolutely love what they're doing up there on stage, and the euphoria they feel in their hearts while performing for their fans. The ratio of old to new songs played throughout was just about even, and they ended the show with a spectacular performance of their new single, Chasing After You, that left the audience dancing all the way home.
___
Your very first show was at House of Blues, right here in Orlando. How does it feel to be back?
Dan: Weird.
Jacob: A very long deja-vu! We literally pulled in and you see the staircase where I threw a tantrum on tv; it's like 'oh yeah, oh yeah'! And this dressing room, where we got in a big argument because we were stressed about the show…it all comes flooding back really, really quick.
Erik: This room alone…it has so many memories
Trevor: Well, this means so much. A lot of people come to House of Blues when they're already obviously established…you don't play House of Blues if you're not. It was our first show; so this just means a lot more than just like a first concert here.
___
What can the fans expect to see on your tour this year?
Dan: Well, I mean, we have a new album out, Lines And Circles, so we do a lot of material from that. We take a lot of pride in that because this was an album and a project, and when we came back we kinda did it our way, so we have a lot of passion and energy behind some of those new songs, but obviously we do the old ones because people want to hear those, and we're pretty proud of those too, you know?
Jacob: It is still weird performing "Liquid Dreams" though; I'm not going to lie.
Dan: Oh yeah, totally!
Jacob: Because the song is so novelty, you know…but it's that novelty that created us.
Erik: And now everybody finally knows what the hell it means!
Dan: We're all adults now; we can just talk about it freely.
Jacob: We get asked all the time, 'are you going to re-create Liquid Dreams, and put in current names?'…so we kinda did, but most of those names are still hot, so…
___
I know you guys reunited just for fun at first, but it quickly turned into a whole new venture. What do you hope to get out of this 2015 Lines and Circles tour?
Trevor: We just want to get out there and reach as many people as we can. We just want to get out there and perform our new music, and be out there for our old fans, and like I said, hopefully create some new ones. And just being on stage, we love it; we have so much fun up there, we like being around each other…
Jacob: I just like having three other singers out there, because it makes it really easy on me! It's about seeing the ride-or-die fans…because we have a new album out, but it's mainly our old fans that are finding it. We'll be pushing a single this year, but right now for this first tour, it's all about the people that have been with us 15, 16 years now.
___
I know you guys get asked questions about Ashley Parker-Angel all the time. Besides his absence, what is the difference between the O-Town from a decade ago and the O-Town of today?
Jacob: We have a new appreciation for everything, that's for sure.
Dan: Yeah, we don't stress about the little things as much, and I think that as we age, we realize that the things we used to argue about or get frustrated with were generally something that wasn't that big of a deal. We just let a lot of the little stuff roll off…like, we used to get really upset if someone missed a dance move or whatever, and now it's like 'oh, he missed it, haha! We'll make fun of you later for that one!'
Trevor: We were actually making fun of each other on stage. That's kind of what I think is the biggest difference. We used to be in such a formulaic sort of process, where the show was a certain formula, but now we've been able to break free from that formula and be really comfortable with one another now that we've known each other for over a decade. We just do us on stage, and basically allow people to peek in on our friendship.
Erik: I think the biggest difference between then and now is the amount of control we have. We do everything; we don't have a record label telling us what to do, you know…we're booking all the shows, we're putting our stage show together, writing the songs; it's amazing the difference when you are in control of something 100%, and that's the greatest thing.
Jacob: It's that adult understanding. Because there was a lot to happy for back then, but we didn't have perspective like we do as an adult to really appreciate what you're going through. So you let the little things like missing a dance move ruin your night, and it really is just singing and dancing, so it really should be good! But you'd be surprised; our fans follow us, so they know the choreography. They know it better than we do sometimes. So when we mess up, they remind us the next day at the meet-and-greet, 'hey, you missed that beat!'
___
How has it been managing most of the "new O-Town" aspects by yourself (songwriting, artwork, social media, etc)?
Jacob: Well, we do have teams now that help us out…because Skydive happened like it did…it's grown. You know, it was just supposed to be the one single, but it's evolved to the people that like it and took it to the next step. So it's the people around us that take our lead instead of people around us telling us what to do.
___
How is keeping up with social media different from or similar to being on the tv show "Making the Band"?
Trevor: Well, social media requires us to do it, whereas on Making the Band, the cameras were there and kind of put it out there. We're still showing ourselves, which is easy for us to do, but the effort has to come from you individually or us as a group. But we're pretty good about that. Those are Dan and Erik's duties. They are our main social media guys; Erik does our Snapchat…
Erik: Yeah, it's been fun. It's a way to connect, 10 years from the last time we connected with the fans, so this is the best way to do it. It's really weird having this relationship online with a fan and then going to a stadium and finally meeting them…it's like 'oh, you're @so and so; I know you, @so and so!' We have this connection now that the first time around we just never had.
Jacob: I was in the car reading emails and saying 'Oh, I want to keep these; that would be so cool to start an email list', and someone said to me 'you guys don't have that from the beginning?'….16 years ago…email wasn't really a thing for that back then.
___
Well, on that note…It's 2015, which means superstars are being born from YouTube, Vine, and other media outlets, almost overnight it seems. Do you have any advice for young people today that want to break into the music business?
Trevor: Always be driven by your talent. Be driven by what you want to show to the world, whether it's singing or writing or whatever. Don't ever do it for the fame, that's just the wrong thing…unless you just want to be famous, then go do your thing! But if you want to be an artist, just make sure it's always an extension of your art
Jacob: Overall, these kids nowadays are just, 'look at my money, look at this!'…it's fleeting. It might be cool for a couple of days, but it won't be what makes a career.
___
"Skydive" is a pretty powerful comeback song, about that leap of faith back into the spotlight. Did you know from the start that you wanted to make this the first single?
Dan: No, it was the exact opposite actually. Well, it was one of the first songs we heard, but it was in a very rough form, so we just brushed it aside and started recording a bunch of other stuff. And we thought that one of those would be the one. But the further we got into the project, those didn't feel right and we went back and said 'what about that one song we did in the beginning?'. Jacob went back with some buddies and re-produced the song, and turned it into what it is now. That's really what really got everything moving again. It's a good bridge between what we did before and what we're doing now, and it's the best way to represent the 2015 O-Town.
Erik: We didn't know if this thing would work, obviously because we lost a member and we knew we needed to fill a void. Luckily Trevor had really worked on his craft, and he really stepped up, and Skydive was a good representation of that, because we all knew we would have to sing more.
___
You guys connect so well with your fans, and you seem to really care about them. How have they influenced your development as a band?
Trevor: Besides us wanting to put an album together for our sake, that's who it's for. When a fan comes through the line…they're so much smarter now! They're older, and they have real opinions. They're not teenybopper 12 year-olds like 'oh my gosh, I love you so much!' you know? We actually kind of look for them to be like, hey what wasn't good tonight? They really have a voice with us.
Erik: So much more than before. When it first happened, we knew that it was part of the machine, and the fans were there because of the television show, but now twelve years later the fans that are still here are the ones that really, really care. And we really, really care.
___
Honestly, would you do it all over again? What would you change if you could go back?
All: From the very beginning??
Trevor: Absolutely, it's been an awesome ride. There's a lot of things we'd do different, but I'd definitely go to the audition again.
Jacob: I'd enjoy it more and relax.
Erik: We were watching The Voice, because your [to Jacob] friend is in the final rounds (top 6), and I was just like, I am so glad that we were the first ones to go through this. Because I wouldn't make it through! They're really good and they're really pro now at such an early age.
Jacob: Without the show, these voices could have been lost. I mean, look at Carrie Underwood…this small little town, no record executives going there to search out for talent. That show gave her a voice, and she's amazing.
___
Any plans for playing more shows abroad in the future?
Jacob: Not on the books yet, but the plans are that we're going back. We haven't even visited the west coast yet. We still have a lot of space to fill.
Erik: Which has been awesome, because we've been getting offers from places we didn't think we'd get offers, because this thing is organically growing and spreading naturally, and it doesn't matter if the album came out a few months ago…if we're slowly rebuilding a core fan base that's about the music, we have no television show. It's kind of a slower build, but a more gratifying one, you know.
What's one thing about each of you guys that your fans don't know?
Jacob: I'm not that big of an asshole! (All the time)
Trevor: I'm an open book, I don't know
Erik: I think what they need to know, what the fans need to know, is that they mean the world to us. And at this point in time, they mean more to us than ever.
Dan: I'm a little more private than these guys, so if there was something…I probably wouldn't tell!
___
"Buried Alive" is the first acoustic track you guys have recorded for an album. Do you see yourselves doing more acoustic work?
Jacob: After last night, yeah. We did an impromptu kind of show and decided to do an acoustic set. And now the fans are like, 'you need to do an acoustic album'. So it got us thinking that it might be fun.
Erik: That's actually an interesting story too, now that you bring it up…Buried Alive, we actually got it produced and had a production…we heard it and knew we wanted the song, but we heard the produced version thinking we were going to go with that. We decided just to take it all off and leave it as just guitar.
Jacob: They took it upon themselves to do that. We got it and we're like, 'no, give us back the first one; we liked the first one', but it ended up going acoustic.
Erik: It creates a different energy behind the songs. It's like you're following a different movement in a sense. So it's just new…you know, when you start singing the songs over and over again, it's nice to just do it a little different and still stay true to the record.
___
What's next for you after this tour?
Jacob: Another tour, yeah.
Trevor: Hold on, let me call our manager real quick…Jacob? Jacob?
Jacob: We're trying to get a west coast tour, but we've got a single going to radio and a new video that we just shot, so we're prepping that release and once that's released, we'll continue the tour. We haven't had a single here in the States; really, Skydive was overseas, so this will be our first inside release. We need the fans to call in and request the song on their radio stations so we can get it out there more!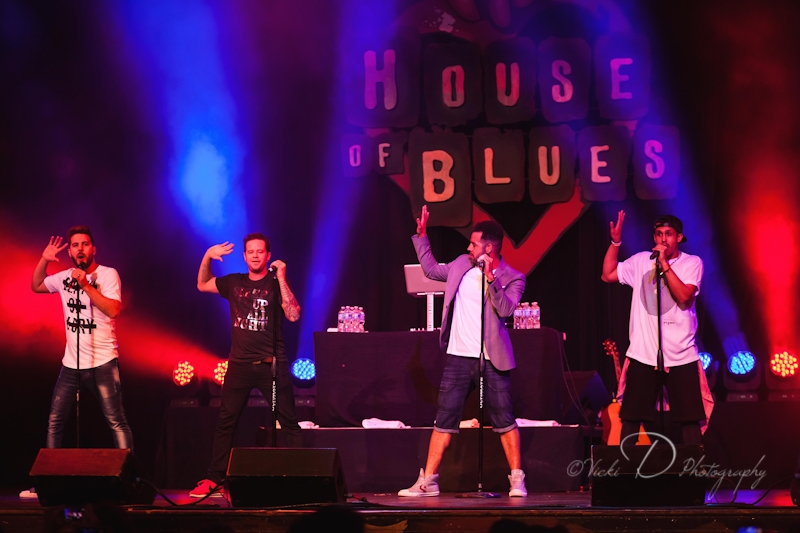 O-Town has surely made a leap of faith with their comeback, and their future from here only looks brighter every day. O-Town is a must-see band, with shows that surely aren't to be missed. The tour ends on May 7 in Dallas, TX (USA) for now, but be sure to look out for more dates and cities to come (including the possibility of more shows abroad). More band information can be found at www.Otownofficial.com. Purchase Lines And Circles (album) on iTunes today!